April 18, 2014
By Greg Frank
@g_frank6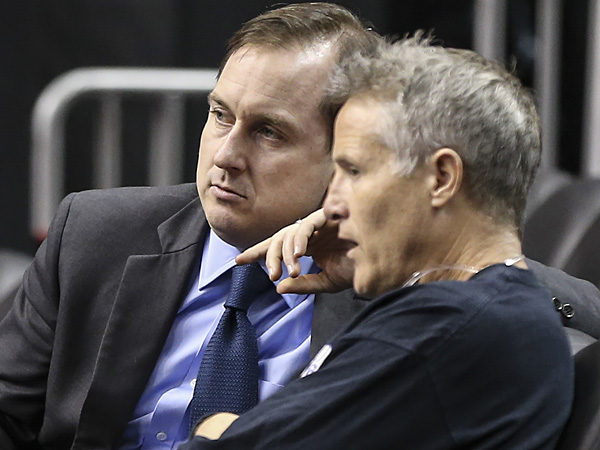 We all knew what we were signing up for with this year's Sixers. But the long-term plan Sam Hinkie has been trying to implement is more exciting than anything anyone in the Sixers front office has attempted to do in the post Allen Iverson era.
So here we are on the eve of the NBA playoffs, with the Sixers having completed a 19-63 regular season.
Now they wait to see where they'll stand after May 20's NBA Draft Lottery, a date that's been anticipated since last June when Hinkie made the trade with the New Orleans Pelicans, sending Jrue Holiday south for the rights to Nerlens Noel and a top-five protected pick this year.
Looking back on that trade that got it all started, it's hard not smile if you're a Sixers fan. No disrespect to Jrue Holiday, who was worthy of his All-Star selection last season with the Sixers. But as we learned when he was in Philadelphia, Holiday is a great player, but not someone you can build a franchise around.
So to get last year's sixth pick in Noel, and a pick the Sixers in all likelihood will retain this year, really maximized Holiday's value. It's also worth noting that bringing in a big man like Noel helped the Sixers move past the Andrew Bynum fiasco.
Granted, Noel hasn't played a game yet with the Sixers either, but by no means is he Andrew Bynum. The Sixers acquired Bynum in the summer of 2012 with the intention of him carrying them deep in the playoffs, but learned the hard way that Bynum's knees are past the point where they'll allow him to play at the All-Star level the Sixers thought he could.
The Sixers traded for Noel with the intention of giving him the entire season to recover from a torn ACL. That takes lots of time to recover from, but is not a degenerative condition like Bynum's. The Sixers are thinking long term anyway, so giving Noel the whole season to recover isn't much of a problem.
Now shifting to someone who did get on the court this season. That would be Noel's
long-time friend and AAU teammate
Michael Carter-Williams,
a top candidate for the NBA's Rookie of the Year
, after an impressive season where there wasn't a whole lot to be expected.
Carter-Williams big problem coming out of Syracuse was his penchant for turning the ball over, which he seemed to control for the most part in his rookie season. MCW was impactful in a variety of ways this season, as he finished the year averaging close to 17 points a game, and over six assists and six rebounds a game. He also averaged about two steals a game as well. A stat-sheet stuffing, do it all type of point guard, looks like what Michael Carter-Williams could become in the NBA, which brings me back to Hinkie.
Last year's draft class was pretty weak. So while that argument could be used to diminish MCW's possible Rookie of the Year award, it tells me something about Hinkie and his ability to evaluate talent.
In a weak draft, Hinkie may have found the Rookie of Year with the 11th pick. That's encouraging if you ask me. Then consider that when he was healthy during his one year at Kentucky, Noel was the consensus number one overall selection in last year's draft. For him to fall to the sixth pick, where Hinkie would eventually trade for him, was also a nifty move.
Knowing that they weren't looking to contend this season, Hinkie capitalized on the fact that Noel was once considered the number one pick by many in last year's draft, and due to his ACL injury, fell to that sixth pick. But the injury didn't stop Hinkie from acquiring him, and it really shouldn't have given Hinkie's plan.

Ten years from now, Carter-Williams and Noel may go down as the best two players in last year's draft class. Hinkie landed both of them. So if Hinkie can bring in talent in a weak draft, think about what he could do in a strong draft.
Granted, this upcoming draft class was hyped from the start and I don't think any one player lived up to the hype during the college basketball season, but this is still a good draft and the Sixers will likely have two top ten picks. With their point guard and center already in place, the Sixers need that explosive elite wing player, which is why they've been linked to Kansas swingman Andrew Wiggins all season in mock drafts. While Wiggins headlined the group of overhyped NBA Draft prospects this season, he still did a lot of good things at Kansas and is absolutely worthy of the number one overall pick if the ping-pong balls bounce the Sixers way in a month.
Wiggins is the perfect fit with Carter-Williams and Noel, and perhaps Thaddeus Young if he sticks around. MCW was eighth in the NBA steals this past season and Young was second.
While the Sixers had lots of struggles as a team defensively this year, Carter-Williams and Young were both very good two-way players and often times their good defense would lead to transition offense. With two defenders who can play the passing lanes and use their quick hands to generate steals, and then a rim-protecting defender like Noel, Wiggins would give the Sixers a lockdown on-ball defender that would fit right in.
Wiggins biggest strengths right now are his defense and his athleticism, as his offensive game is still raw and needs to develop. But he just seems to fit the brand of basketball the Sixers want to play, which would be to play good defense and then get out on the break and showcase their youth and athleticism. Carter-Williams and Noel are two guys that already fit this mold and to add a third in Wiggins, who still has superstar potential despite possibly too much hype coming out of high school, would be great for the Sixers.
The other elite wing player in this draft class who could be a superstar who just recently declared for the draft in Duke's Jabari Parker. Parker presents a different, more polished game than Wiggins, which is why many believe Parker is more NBA ready than Wiggins, and probably will be a little more successful in the short term.

Parker's biggest strength is his offense. He can score from almost anywhere on the floor, as his offensive repertoire is loaded.

Parker is also about 30 pounds heavier than Wiggins, which gives him more of an NBA body. Teams that are looking to turn things around immediately have been linked to Parker. But the biggest thing Parker must improve on in his defense.

Despite averaging close to nine rebounds a game in his freshmen season at Duke, Parker is an average defender who sometimes checks out on the defensive end and becomes a liability. For this reason, I believe Wiggins is a better fit for the Sixers, but if the Sixers wind up picking second and see Wiggins go first, then by no means is Parker a bad choice.
In a perfect world, the Sixers would end up with one of these two players with the first pick in the draft in late June. But the NBA Draft Lottery is known to sometimes leave a team or two with some bad luck.
While the Sixers had the NBA's second worst record this season, if they're picking outside the top two, and both Wiggins and Parker are gone, then it will come down to Hinkie's ability to evaluate the rest of the talent in the draft and who he believes makes the most sense.
Maybe Hinkie thinks Joel Embiid and Nerlens Noel could co-exist. Maybe he's attracted to the appeal of an all Kentucky front court and will look seriously at Julius Randle. Maybe he likes the skill sets of Aaron Gordon and Noah Vonleh a little bit more and will go that route. There are lots of choices with the pick the Sixers are likely getting from New Orleans, and their own pick if it falls lower than expected, but Hinkie proved in drafting Carter-Williams that he can make a good one.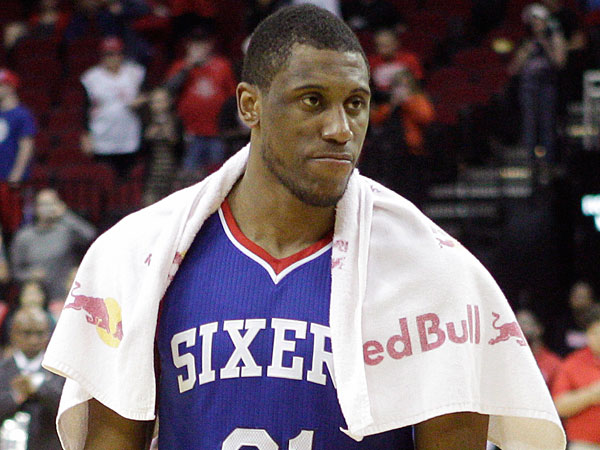 The one hangover from prior front office regimes is Thaddeus Young. While Hinkie moved the expiring contracts of Spencer Hawes and Evan Turner at the trade deadline, with Young under contract for next season, the debate over whether or not he will stick around for next year can now begin.

As I mentioned earlier, Young was second in the NBA in steals this year and could help the Sixers instill that defense-first culture that they like they're going for. However, my gut feeling is that on draft night, Young gets moved. His value is not nearly as high as Holiday's was last year, but I think Hinkie likes having that ammunition at his disposal and will try to use Young in a trade to acquire a third first-round pick later on in the draft.
What will happen to Young in the near future isn't clear, but one thing is for sure. The Sixers are certainly a more intriguing team to talk about now than they've been the last eight to ten years. Brett Brown and his team struggled through the season but there is plenty of light at the end of the tunnel, especially with Sam Hinkie calling the shots.